IHM History through IHM Insignia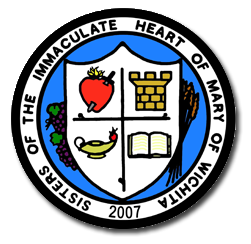 In the insignia of the Sisters of the Immaculate Heart of Mary of Wichita the history of the Institute is seen in the heart – the Sorrowful Heart of Mary, Refuge of Sinners – and in the castle, which point to the origin in Spain in 1848; the grapes, to the establishment of houses in California in 1871; the wheat, to the foundation in Kansas in 1976. The Wichita community became independent in 1979 and was erected as a religious institute of diocesan right in 2007.
The spirit and the works of the Sisters of the Immaculate Heart of Mary of Wichita are expressed in the symbols:
CIRCLE/RING: Spousal relationship between God and the religious. "I am the Alpha and the Omega. I will betroth you to myself forever." (Rv 1:18; Ho 2:19)
SHIELD: Divine protection. "Yahweh is my strength, my shield." (Ps 28:7)
CROSS with THREE NAILS: Imitation of Christ through religious consecration by the vows of chastity, poverty and obedience. "With Christ I am nailed to the cross. It is no loner I that live, but Christ lives in me."
(Ga 2:19, 20)
PIERCED HEART: Most Pure Heart of Mary, the Woman of faith most fully expressed on Calvary. "Near the cross of Jesus stood his mother." (Jn 19:25).
CASTLE: Contemplative life. "I saw the soul as a castle made of a single crystal-clear diamond in which there are many rooms, as in heaven there are many mansions." (St. Teresa of Jesus, The Interior Castle I; Jn 14:2)
LIGHTED LAMP: Attentiveness to the divine Bridegroom. "My Beloved is mine and I ma his." (Sg 2:16; Mt 25:10)
OPEN BOOK: Pondering God's word and teaching God's people. "All scripture is the source of wisdom ... useful for teaching and training in holiness." (2 Tim 3:15, 16)
WHEAT and GRAPES: Eucharistic center and source of unity. "He who eats my flesh and drinks my blood lives in me and I in him. Love one another as I have loved you." (Jn 6:56; 15:12)
The presence of Mary inspires, permeates and unifies the religious family; for Mary is the first and perfect Virgin, the spotless Bride, the humble Handmaid. In Mary, the model and Mother of the Church, the religious studies the ideal Woman. By imitation of Mary, the great Sign, the faithful religious also becomes for the pilgrim people of God a visible sign of hope of eternal life.